Bio
We are a small band out of San Antonio filled with great musicians . We have recorded 6 CDs, charted highly in many Americana and Roots reviews. We have managed to carve our own niche from the Americana music scene by embracing the rich musical heritage of San Antonio.  This band sounds like San Antonio, a mixture of cultures and generations colliding and embracing each other.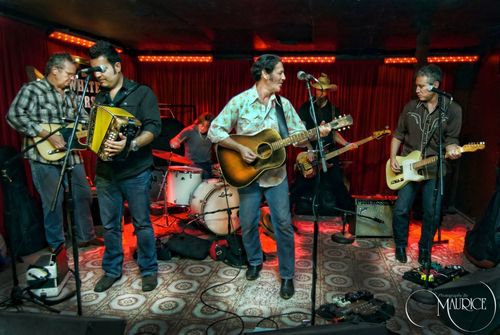 A few quotes we like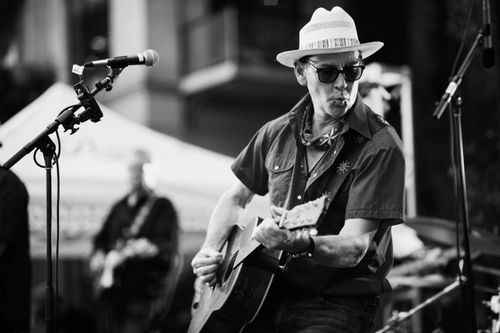 "Mitch Webb's Tex-Mex balladeering and Spanglish twanging brings to mind being stuck driving through King Ranch on a Sunday afternoon in a pickup truck without A/C, the windows wide-open and radio cranking for a sing-a-long to pass the time."    Benjamin Ortiz / Chicago Tribune 
 
"…combine the punk rock immediacy of the True Believers, the Tex-Mex persuasions of Sir Douglas Quintet and the seedy innocence of a million garage dwellers…"    Luke / Luke Magazine / Somewhere In England
Filled with fantastic dance music and world-class musicians, we are a 6-piece band out of San Antonio. We have recorded 6 cds, and charted highly in many Americana and Roots reviews. We have managed to carve our own niche from the Americana music scene by embracing the rich cultural heritage of San Antonio, and so, the band sounds like San Antonio, a mixture of outlaw country, rock, conjunto, and Americana cultures and generations colliding and embracing each other.
"Mitch Webb and The Swindles continue in the rich musical tradition of San Antonio, Texas on Lonely Kind, a blend of rockabilly, roots country and in-your-face rock and roll. Reminiscent of the early days of Sun Rockabilly, Tex-Mex ballads of Freddy Fender and Flaco Jiminez and the great rock and roll sounds of Doug Sahm. Any of these songs could propel this outstanding band into the national spotlight and the album is beginning it's rise on the R&R Americana Airplay Chart."    Bill Hurley / Artists Development Co-op 
"Listen to the music and make your own mind up",    Uncle Mitchy
Uncle Mitchy's Super-Boring Bio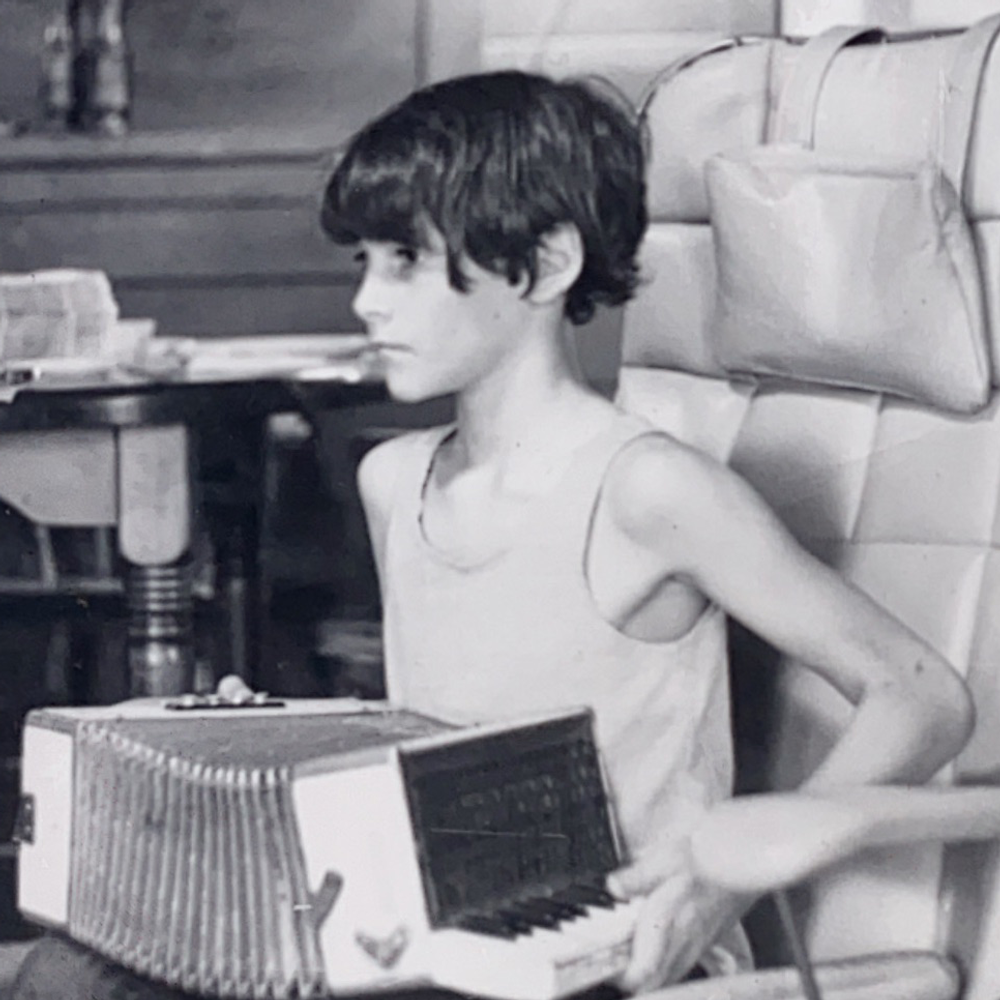 A Good Read
Action Magazine April 2008
Action Magazine Article April 2008  Mitch Webb and The Swindles are familiar names on the San Antonio music scene, and denizens of Casbeers, Sam's Burger Joint, and other music-oriented watering holes are probably aware of some recent accomplishments. Webb and his talented brace of "garage rockers" just released a new CD titled Lonely Kind, as well as a CD/DVD called Last Band at Taco Land, a fitting and final tribute to murdered Taco Land owner Ram Ayala.
The CD/DVD has Ram admirers buzzing from St. Mary's Street to all points north, for Webb's Swindles were, in fact, the last band to play the now-shuttered alternative music skull orchard down by the upper reaches of the San Antonio river (close to the old Pearl Brewery). Webb is a talented singer and songwriter who can fit into categories ranging from Americana to punk-style rock, and many of us know that Swindles guitarist Joe Reyes is a Grammy winner who has played with Lara Y Reyes, Buttercup, and Michael Morales, to name a few. And volumes could be written about the other Swindles who include Dave Wasson on guitar, Paul Ward on drums, and Odie (Odie is one of those fellows who prefers not to be known in print by the name on his birth certificate) on bass. And when Odie ain't thumping the bass, it's Bart Nichols of the #3 Dinners, one of Webb's greatest musical influences.   
But there is a musical family history behind Mitch Webb which is a story in itself, and we were intrigued with much of the information which came our way in the form of an e-mail from Webb himself when we asked him for some bio material. Webb's wife is a snake scientist, and the couple, along with 3-year-old son David Earl Justice Webb, live with a house full of pythons, but more on that later. First some musical history.   
Mitch Webb and The Swindles have won all sorts of local music awards, and it's good to connect some of the current with the past. Webb rattled the cage which still houses what's left of our long-sleeping memory when he brought up the old psychedelic group The Children and his world-renown singing sister Cassell Webb. At Mitch's suggestion, we Googled the name Cassell Webb, and if you do the same you will readily see that Mitch Webb came by his talent honestly. "My sister took me to see Hendrix," Mitch Webb recalls. "She introduced me to B.W. Stevenson, the Fabulous Thunderbirds, Rocky Erickson and Bubble Puppy. The list never ends. I've hung out with Blondie, Doug, The Fall, Shonen Knife. I never would have met any of them if it were not for her. She even introduced me to the #3 Dinners whom I still follow around to this day."   
Webb's musical family roots start with his late grandma, Ida May Justice, a San Antonio accordion player and gospel singer. His dad, Dallas Webb, was an accomplished harp player who performed on the radio as a child in North Texas near Center Point. The father, a fighter pilot, died in 1989. Mitch's mom, Edna Louise Webb, was a Jefferson High School majorette who sang around San Antonio with a big band of the times. She passed away after Mitch graduated from Roosevelt High School. Edna Louise and Dallas Webb met before World War II at a Randolph Air Force Base dance for cadets. They traveled the world before Webb returned to settle permanently in San Antonio. Mitch Webb is the youngest of six musically inclined children, two of whom are deceased. Mitch's brother David was killed in a car crash in 1970, and his oldest sister, Dallas Louise, died of cancer this past September. Dallas supplied the funny voice on The Pig Song which is the 10th cut on the Swindles new CD Lonely Kind. In addition to Cassell, the most famous of San Antonio's Webb family, Mitch has two other sisters, Becky the piano player, and Jimmie, who Mitch said was issued the best set of pipes in the family. "I was given the gift of all my siblings: stories of music," Webb says. "My sister Dallas Louise, the oldest, spent time as a teenager in Clovis, New Mexico, home of the Norman Petty Studios. She was in the heart of the Texas rock-and-roll beginnings, and she had lots of stories of our fighter pilot dad trying to keep her away from guys like Roy Orbison." Noting that Dallas helped with the new CD before she died, Mitch said, "I'm glad I had a chance to hang out with her and record a little before she passed on." Sister Cassell Webb probably had the greatest musical influence on young Mitch.   
With their late brother David, she played local folk music hangouts alongside such luminaries as Michael Nesmith who later gained fame with The Monkeys. Now based in England, Cassell has recorded and toured with the best of the best, from Jerry Jeff to Townes Van Zandt and hundreds more in between. In addition to being a songwriter and recording artist, she is an accomplished poet. She is married to world renowned producer Craig Leon. Born in San Antonio, and educated at Edison High School, Cassell has had an incredible career.   
Mitch said, "My dad retired from the Air Force around 1964 and we moved the whole family to a house on top of a hill outside Universal City on I-35 across from Boysville. My brother David was going to SAC, and sister Cassell was still at Edison." David dropped out of music at an early age. Mitch said he had a pilot license at age 24, and was a successful air-conditioning firm sales rep when killed in a car crash in Mexico in 1970.   
Cassell Webb wound up in the Leland Rogers stable of musicians, and Mitch recalls the late 1960s "when we would go to United Artists headquarters where all the bands recorded near Sugarland, and watch Leland Rogers' brother Kenny rehearse with his band The 5th Dimension." Mitch said, "I got to meet all the psychedelic bands of that era because our house on the hill became a resting point after they would play the Mind's Eye on Austin Highway. During this time my sister Cassell gave me two records which I still have today–Hank Williams Greatest Hits, and Johnny Cash and his Red and Blue Guitar." Of his late sister Dallas Louise, Mitch said she left her rock beginnings to marry a bull rider from Missouri, leaving him all of her rock-and-roll 45s. "That's where I started learning all the songs," he said. Sister Becky, Mitch said, was the piano player who attended U.T., got married, and now lives with her beautiful family in Sacramento, California. Mitch said his sister Jimmie was lead singer for Rock Street and the J. Whipple Band during the early 1980s. A graduate of SAC and the Marius Perron recording classes at UAR, Mitch Webb started a band called the Radsoles in 1987 (the band included Grammy nominee John Dufilho). The band had a good run until 1990 when Webb took off for New York. He returned to San Antonio, disillusioned and broke in 1992. At this point, Mitch started fronting a band which sister Cassell named The Lost 38' after their father's ill-fated WWII squadron that was stranded on the Greenland Ice Cap. "We played at Doza's a lot, and I really started to figure out how to make it work," Mitch says. "Joe Reyes moved in next-door to me and helped me fine-tune the band into what it has become today, The Swindles, with three CDs to date, including the Last Band at Taco Land project." While the musician Mitch Webb has led anything but an orthodox professional existence, his home situation is every bit as unusual. Webb lives with his herpetologist wife Hillary and between 50 and 100 snakes which crawl about the house. "Hell, it don't bother me," Mitch laughs. "I grew up around rattlesnakes." Webb's wife of 12 years came here from Florida to work for Vida Preciosa International, one of the largest and most prestigious snake breeders in the world. She is now a teacher at New Frontiers Charter School on South Presa Street, and runs her boutique snake company called Captive Bred Pythons. Mitch and Hillary met at the old CD Warehouse on Rhapsody where Webb ran a used CD operation. For the past 12 years, he has held down a job at the CD Exchange on San Pedro. "This," he said, "and gigging an average of twice a week. The band is still my major love."